The 5th Trinational Monarch Monitoring Blitz
was a great success thanks to you!
Between July 23 and August 1, 2021, over 2,000 volunteers across 80 states and provinces in North America shared 4,293 observations of monarchs and milkweed, the highest level of participation ever recorded in the Monarch Blitz history (see graph below).
Thanks to the work of 2,078 volunteers in Canada, Mexico and the United States, experts have gained information not only on the density and the distribution of this emblematic butterfly, but also on its host plant: milkweed. Nearly 50,000 milkweed plants were recorded, drawing an interesting portrait of the monarch's reproductive habitat during the summer.
Why Community Science?
The information collected by the community throughout North America continuously helps researchers identify priority areas for monarch conservation actions. And thanks to this engaged community of monarch observers, monarch researchers will soon be able to analyze trends in summer breeding populations sizes. Note that the volunteer-collected data are accessible for anyone to consult and download on the Trinational Monarch Knowledge Network.
Furthermore, the caterpillar to milkweed ratio extrapolated from these observations will inform experts on the potential number of monarchs that will eventually undertake this impressive migration down south, since the caterpillars surveyed during the blitz are most likely the butterflies that will eventually arrive in Mexico at this time of the year.
Volunteer participation and engagement by volunteers grows year after year, and experts believe that the Monarch Blitz's database, almost exclusively made up of observations shared by volunteer community scientists, will achieve the original objective set for the Monarch Blitz by the Trinational Monarch Conservation Science Partnership: a rigorous estimation of the size of summer breeding population, similar to what is done with the overwintering populations in central Mexico and coastal California.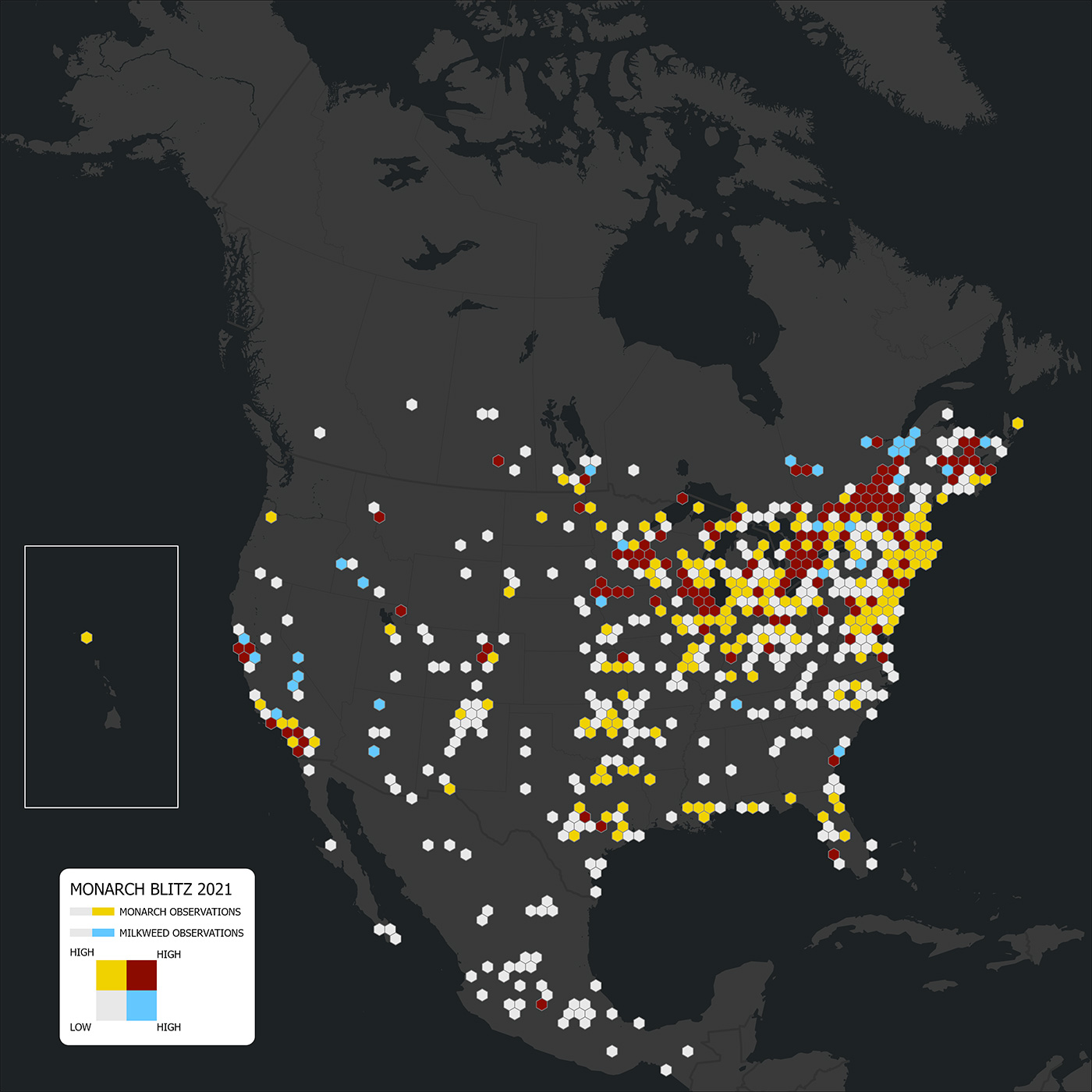 What do the colors mean?
Light grey: A low number of observations of either Monarch or Milkweed
Yellow: A high number of Monarch observations
Blue: A high number of Milkweed observations
Red: A high number of both Monarch and Milkweed observations
This year's Blitz is a great example of resilience, not only on the part of the monarch but also from the different communities across North America. Let's continue our collaborative efforts to learn more about monarch behavior. With this information, together we can take action to create habitats where the monarch butterfly and our hearts can soar.