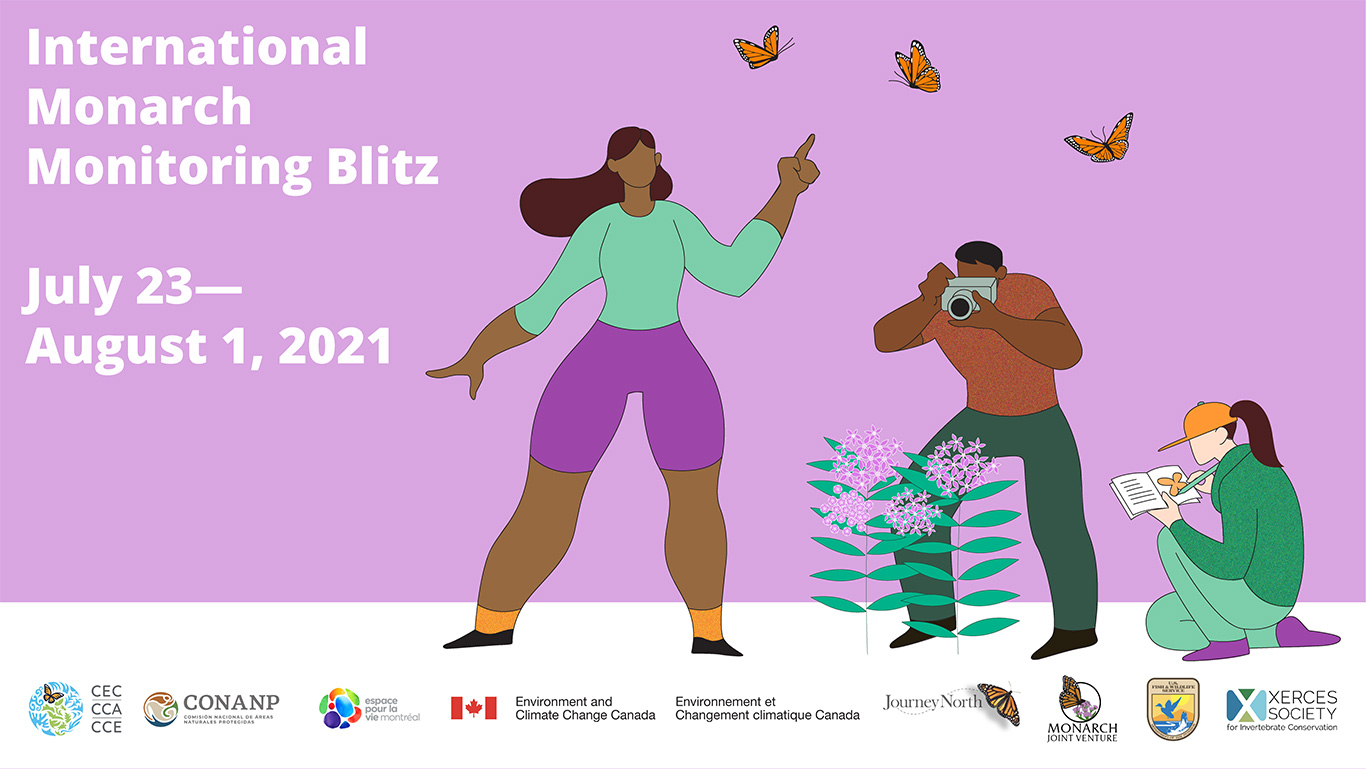 International Monarch Monitoring Blitz
From July 23 to August 1, 2021, thousands of volunteers in Canada, Mexico and the United States, will take part in 5th annual International Monarch Monitoring Blitz (the Blitz). In the context of COVID-19, with limited ability to do field work, researchers now need your observations more than ever.
You can learn more and take part in the Blitz, with the following citizen science programs:
#MONARCHBLITZ
The International Monarch Monitoring Blitz aims to provide a valuable snapshot for scientists of the monarch population status across the butterfly's migratory paths in Canada, Mexico, and the United States.
For one week, the Blitz invites people across North America to look for milkweed plants and survey them for monarch eggs, caterpillars, chrysalises and butterflies. This information will help researchers identify priority areas for monarch conservation actions. Data gathered during the Blitz is uploaded to the Trinational Monarch Knowledge Network, where it is accessible for anyone to consult and download.
The Blitz is an initiative from the Trinational Monarch Conservation Partnership, created through the Commission for Environmental Cooperation.
Each country has something to learn from monitoring monarchs during the same period of time, and comparing these observations year-to-year. Observations reported in Canada and the northern United States provide scientists with a snapshot of the peak monarch breeding population and the presence of milkweed. Reports from the southern United States document whether early migration and breeding are occurring. Data collected in Mexico document any monarch breeding taking place in traditional migratory areas.
For this year's Blitz, we feel compelled to underline that your well-being, and that of those around you, comes first. Before participating in any activities, please look up and carefully follow the health and safety measures for COVID-19 recommended by the authorities in your region.
This Blitz is organized by:
Insectarium/Montréal Space for Life
Environment and Climate Change Canada
Monarch Joint Venture
US Fish and Wildlife Service
Mexico's Comisión Nacional de Áreas Naturales Protegidas (Conanp)
Xerces Society for Invertebrate Conservation
Journey North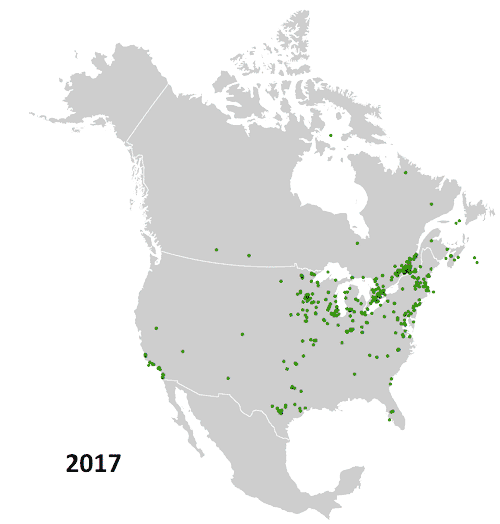 Sites monitored during the Monarch Blitz
Summary of the last four editions of the International Monarch Monitoring Blitz, a community science initiative:
2,037 participants across Canada, Mexico, and the United States
4,348 observations
123,112 milkweed plants monitored
47,887 monarchs observed
19,923 eggs
19,287 caterpillars
1,021 chrysalises
7,656 butterflies
FACTS ABOUT THE MONARCH
Monarch butterflies weigh less than a gram.
There are two recognized migratory routes in North America: Eastern and Western.
Migration covers 3,000-5,000 km (2,000 to 3,000 miles) that span over three countries.
The Eastern migratory population has declined by more than 80% in 20 years.
The Western population has declined by 99% since the 1980s.
Everyone can help the monarch by participating in community science, creating Monarch-friendly habitats, and spreading the word.