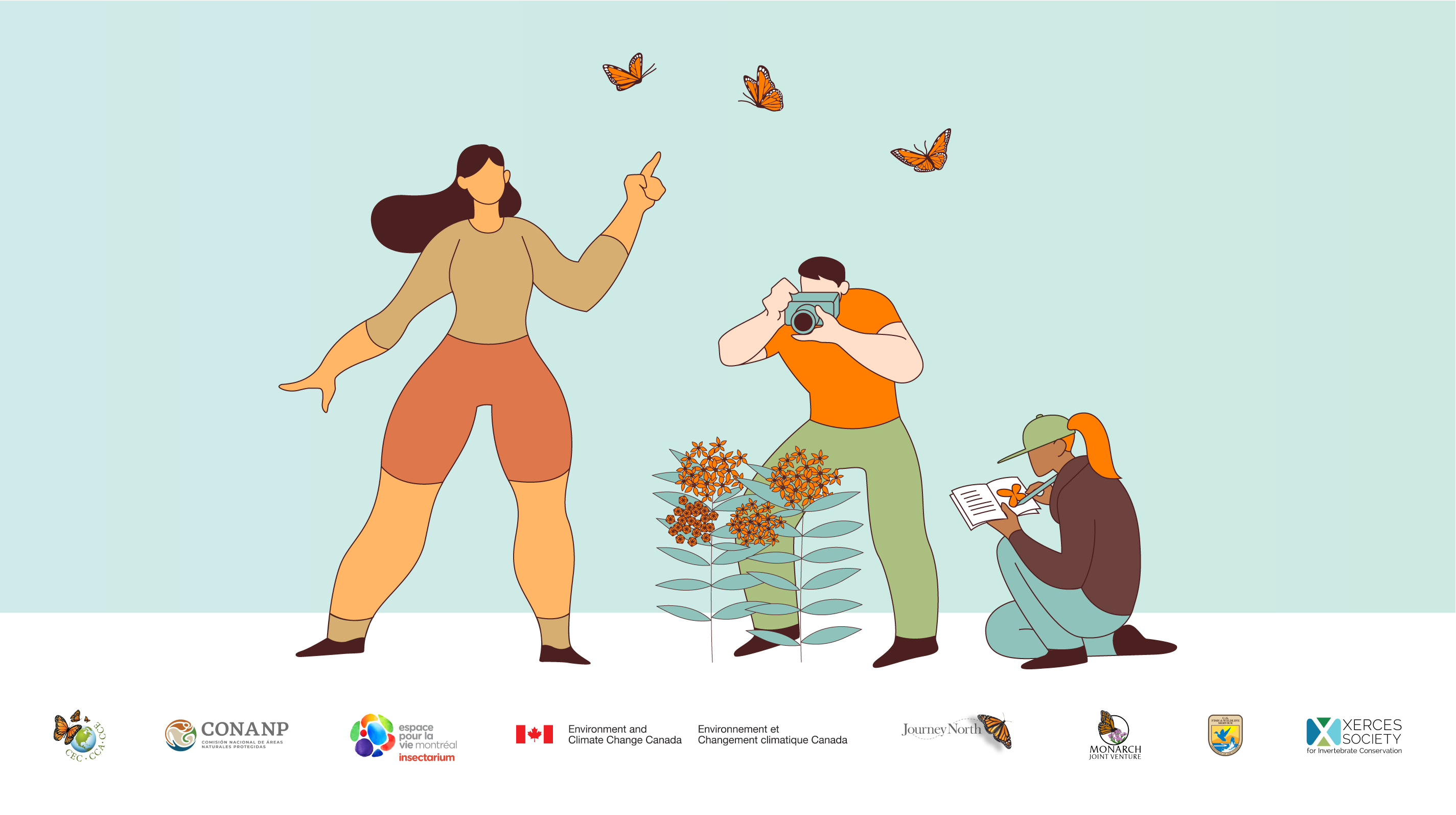 International Monarch Monitoring Blitz
Thank you
From July 24 to August 2, 2020, volunteers in Canada, Mexico and the United States helped monarch experts gain more information to enable better understanding of the distribution of the migratory monarch butterfly, an emblematic North American species.
This year 520 volunteers across 68 states and provinces participated in the Blitz. They recorded 9,649 monarchs at various stages of their life cycle, from eggs to full-fledged butterflies. And together, they monitored 40,321 milkweed plants, the sole food source for monarch caterpillars.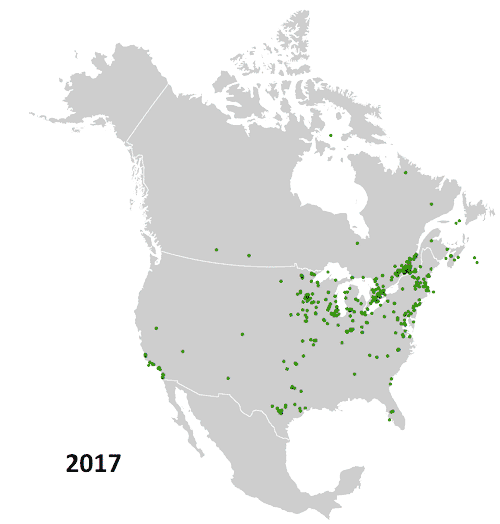 Sites monitored during the Monarch Blitz
Summary of the 2020 International Monarch Monitoring Blitz, a community science initiative:
520 participants across Canada, Mexico, and the United States
68 states and provinces
9,649 monarchs at various stages of their life cycle, from eggs to full-fledged butterflies
40,321 milkweed plants
#MONARCHBLITZ
2020 International Monarch Monitoring Blitz was particularly notable because volunteers surveyed more milkweed per person than in previous years. We thank our dedicated volunteers who do incredible work for the protection of monarchs and milkweeds. Indeed, the higher ratio of observations per participants is not the only highlight of this 2020 Blitz: in Mexico, we saw more participants and observations of milkweed and monarch than ever before.
Efforts must continue to create and protect the monarch's habitat and actively participate in citizen science programs like the Blitz. The North American monarch butterfly is an iconic and fascinating species that still needs our help.
The information collected will help researchers identify priority areas for monarch conservation actions. The data gathered are accessible for anyone to consult and download on the Trinational Monarch Knowledge Network.
The International Monarch Monitoring Blitz aims to provide a valuable snapshot for scientists of the monarch population status across the butterfly's migratory paths in Canada, Mexico, and the United States. The Blitz is an initiative from the Trinational Monarch Conservation Partnership, created through the Commission for Environmental Cooperation.
For one week, the Blitz invites people across North America to look for milkweed plants and survey them for monarch eggs, caterpillars, chrysalises and butterflies. This information will help researchers identify priority areas for monarch conservation actions.
Each country has something to learn from monitoring monarchs during the same period of time, and comparing these observations year-to-year. Observations reported in Canada and the northern United States provide scientists with a snapshot of the peak monarch breeding population and the presence of milkweed. Reports from the southern United States document whether early migration and breeding are occurring. Data collected in Mexico document any monarch breeding taking place in traditional migratory areas.
The Blitz is an initiative of the Trinational Monarch Conservation Science Partnership, which includes collaboration between the following organizations:
Comisión Nacional de Áreas Naturales Protegidas
US Fish and Wildlife Service
Insectarium/Montréal Space for Life
Monarch Joint Venture
Journey North
Xerces Society for Invertebrate Conservation
Science and Technology Branch – Wildlife Research and Landscape Science Directorate, Environment and Climate Change Canada
For more information on this year's results, follow the #MonarchBlitz on social media. You can also check out resources in your region:
FACTS ABOUT THE MONARCH
Monarch butterflies weigh less than a gram.
There are two recognized migratory routes in North America: Eastern and Western.
Migration covers 3,000-5,000 km (2,000 to 3,000 miles) that span over three countries.
The Eastern migratory population has declined by more than 80% in 20 years.
The Western population has declined by 99% since the 1980s.
Everyone can help the monarch by participating in community science, creating Monarch-friendly habitats, and spreading the word.